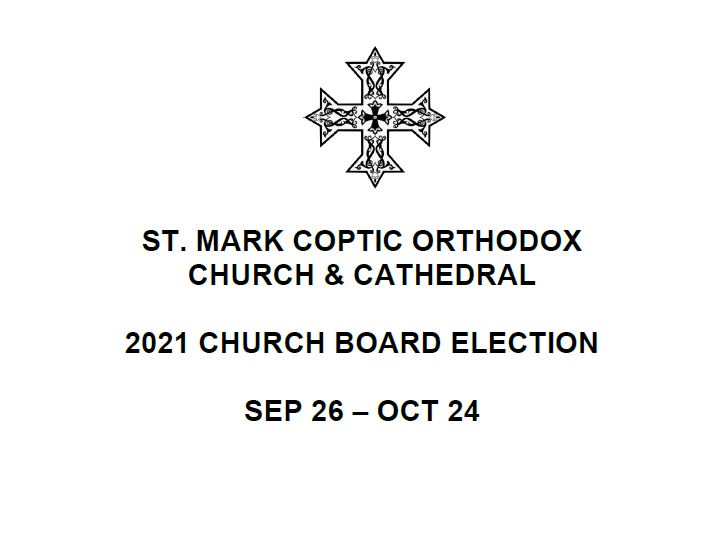 2021 Church Board Election
H.H. Pope Tawadros II has graciously approved a time plan to run an election process for a new
common board for both St. Mark Cathedral and Church. The plan is in conformance with the
Churches' Boards Bylaw published by the Holy Synod. The plan was set to start on September 26,
2021 and be concluded by a voting session held after the Divine Liturgy on October 24, 2021. Votes
count will be sent to H.H. the Pope for final decision on the new board formation.
Nomination Committee: Headed by Fr. Pishoi Atalla.
Voters Assembly Committee: Headed by Fr. Kyrillos Fakhouri
The Voters Assembly Committee has prepared a comprehensive list of all eligible voters as per the
guidelines of the bylaw published by the Holy Synod. Although the new bylaw requires the Voting
Assembly be comprised mainly of those who serve or work in the church, all our acting parishioners
will have a chance to vote in the 2021 board election.
As per the posted Election Plan, members of our congregation may nominate members for the new
board effective Sept 26 and until Oct 15, 2021. Any seven of our parishioners may nominate a
member they see fit for the board by filling out and signing a Nomination Form that is available with
the ushers or it can be downloaded from this site.
Parishioners may also receive the form via email by requesting it from the Church Secretary. Our
parishioners are kindly asked to see that the nominees meet the criteria set by the Churches' Boards
Bylaw that is also posted on our bulletin boards and linked on this site.
A group of seven parishioners may nominate more than one member for the board by using several
Nomination Forms. One should take into consideration that among the members of the new board
there will be:
A youth representative whose age is 24 – 29 years
A lady representing church women
As per the plan approved by H.H. the Pope, the new board will consist of 11 members as follows:
Three clergy members appointed by H.H the Pope
Seven elected members
The Ecclesiastical Education/Sunday School Superintendent (an ex officio member)
Should parishioners have any questions regarding the nomination procedure or the election in general, they may consult with any of the of the Nomination Committee members.